Mindpaint Astronomy Page
Table of Contents :
Astronomy Headline News
Astronomy Photo of the Day
International Space Station Location
Solar and Lunar Data at a Glance
Latitude and Longitude Look Up (Do this BEFORE Online Star Charts)
Online Star Charts
Astronomy Links
- Meteors, NEO's, & Comets
- General Astronomy
- Magazines
- Images & Astrophotography
- Equipment
- Really Cool Stuff
Virtual Globe Applet (Very Cool)
---
---
Where is the International Space Station?...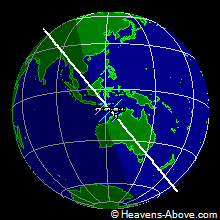 Sighting Opportunities


---
Solar and Lunar Data at a Glance:
---
Latitude and Longitude Look Up:
Be sure the latitude and longitude box is checked

---
Online Star Charts:
Enter the zip code where you will be star gazing:

Another Chart via John Walker's "Your Sky Site"...
---
Astronomy Links:
Meteors, NEO's, & Comets


North American Meteor Network
IMO's Latest Meteor Shower Calendar
A NASA Near Earth Object Page




General Astronomy


National Optical Astronomy Observatories
NASA



Magazines


Astronomy.com - A Lot of Good Information
Sky and Telescope Magazine



Images & Astrophotography


Space Telescope Science Institute - Hubble's Home on the Web
Astrophotography Site
NOAO Image Gallery
Messier Object List



Equipment


Meade Instruments - Great Telescopes at Affordable Prices
Celestron - Great Telescopes, and Accessories


Really Cool Stuff


SETI@Home - Use Your PC to Search for Extraterestrial Intelligence
Space Physics and Aeronomy Research Collaboratory (SPARC)


---

Click on the globe to center any location. Day / Night is realtime.